Hesse Mechatronics Partners with CAD Design Software
Fremont, California, December 15, 2015 – Hesse Mechatronics, Inc., the Americas subsidiary of Hesse GmbH, world leader in wedge wire bonding technology for power, automotive, medical, aerospace, RF, microwave, opto, military and consumer electronics, announces that the company recently partnered with CAD Design Software.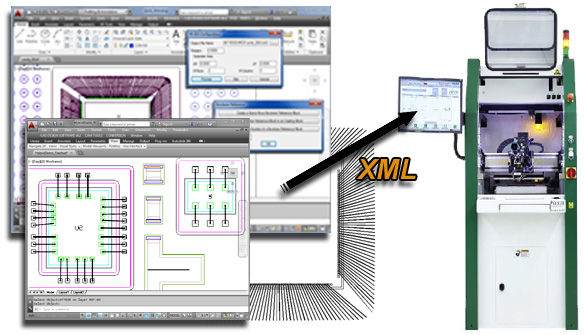 The Hesse Mechatronics Utility Module creates an XML data file that contains wire bond information of polylines in a DXF/DWG file. This XML data file can be used with Hesse Mechatronics wire bonding machines that accept XML data format. This can be done on the Hesse Mechatronics Wire Bonders BJ820, BJ935 and BJ939.
Multiple bond wire groups can be set with unique References.
Sequence numbers and direction arrows will be visible in the drawing.
Create individual bond wire reference blocks.
Update existing blocked entities such as the dies or chips with Reference points that will be included in the XML output.
Assign a name for the Bond Wire Reference (BDS) for selected wires.
Assign the Reference a Sequence Number (BDR), which controls the order in which each will appear in the exported XML file.
Assign a parent name (DEPENDON) to use as a reference system.
Set a symbol text (REFP1, REFP2) to be used as a first and second reference point.
Add direction arrows and sequence numbers to the drawing and set size of text and arrow size.
An array of wire bond data can be exported when an array of identical parts is being wire bonded. The following parameters are available:

Set a Pitch of the array in the X (horizontal) dimension.
Set a Pitch of the array in the Y (vertical) dimension.
Set a Quantity of arrayed parts counted in the vertical dimension.
Set a Quantity of arrayed parts counted in the horizontal dimension.
Contact information:
About Hesse Mechatronics
Hesse Mechatronics, a privately held worldwide company based in Paderborn, Germany, is a leading designer and manufacturer of high speed fine pitch wedge bonders, heavy wire bonders and complementary equipment for semiconductor backend assembly. The company's automatic wedge bonders handle both light and heavy wire applications with aluminum and gold round wire from 12.5 micron (.0005) to 500 microns (.020) in diameter, in addition to ribbon wire from 6 x 35 microns up to .3 x 2 mm, including HCR™ (High Current Ribbon); their heavy wire wedge bonder models also handle copper wire and ribbon. The company's product line also includes dispensers, ultrasonic flip chip bonders, standard or customized indexers with or without handling systems, manufacturing process monitoring systems for interfacing with the company's equipment and commercial software packages.
About CAD Design Software
CAD Design Software, a division of CAD Design Services, Inc. is a privately held company, headquartered in Santa Clara, Calif., with distributors, sales offices around the world. CDS provides customized EDA layout solutions to meet unique technology needs and reduce time-to- market. Rather than requiring customers to use a work-around in off-the-shelf software, CDS customizes tools to specific design automation needs with high-value, low-cost of entry and complete interoperability with other EDA layout tools and interaction with leading machine manufacturers so as to provide a seamless design to product experience. More information about the company, its products, and services is available at
http://www.cad-design.com/.